Agnes's brother 'could forgive' Hoxton takeaway murderers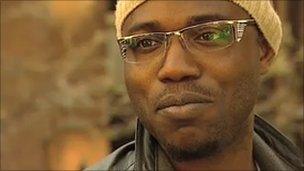 The brother of murdered schoolgirl Agnes Sina-Inakoju has said he would be prepared to forgive her killers.
Agnes, 16, was fatally wounded at the takeaway in Hoxton Street, Hackney, in April 2010.
Leon Dunkley, 22, and Mohammed Smoured, 21, both of Hackney, were convicted of her murder at the Old Bailey.
Agnes's older brother, Abiola Inakoju, said: "If they can forgive themselves for what they have done I would forgive them."
He said: "Forgiveness comes from within.
"But if they find it hard to forgive themselves there's nothing I can do there."
Agnes was unwittingly caught up in a gang feud when she was shot in the neck by a bicycle-riding gunman who fired through the shop's window.
She was waiting for a takeaway meal when the pair cycled up to the Hoxton Chicken and Pizza Shop.
Dunkley produced a submachine gun and fired through the shop window, hitting her in the throat.
Mr Inakoju added that, while he could forgive the murderers, he had nothing to say to them.
He explained: "I don't think I would want to talk to them.
"Talking is about having a civilised conversation - you exchange words which are meaningful.
"We would not be able to talk, we would shout."
Agnes was described in court as a gifted pupil who had visited Oxford University, an institution she had dreams of attending.
She died in hospital 36 hours after being shot.
Remembering his sister, Mr Inakoju referred to her only in the present tense.
He said: "She is everything you would want in a child, a sister and a friend.
"She went to Oxford to see the place and that's where she wants to go."
He continued: "She is a very talented girl. She will be the focus of attention where ever she is."
Two teenage boys, aged 16 and 17, were convicted of firearms offences for holding weapons on behalf of older members of the gang.
Dunkley and Smoured are due to be sentenced later.
Related Internet Links
The BBC is not responsible for the content of external sites.