Stockwell shot girl Thusha: 'don't snitch' leaflet row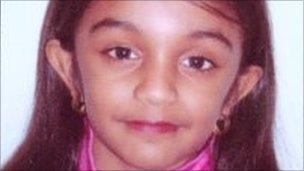 Police have criticised leaflets urging witnesses not to "snitch" which were posted through doors near a shop where a five-year-old girl was shot.
Thusha Kamaleswaran was shot along with 35-year-old Roshan Selvakumar in Stockwell, south London, two weeks ago. She was left in a critical condition.
A website has also been set up which features a video of rapping youths urging witnesses not to come forward.
The Metropolitan Police called the campaign "irresponsible".
A Met spokesman said: "Trident receives an incredible amount of vital community support across London.
"Engaging with us is not snitching but about protecting your community.
"Information from communities is vital to solving murder investigations and we will continue to successfully protect our vulnerable witnesses."
He added: "The word 'snitch' puts witnesses in a category where they have done something wrong - this is not the case."
The campaign follows a "don't snitch" leafleting campaign after 17-year-old Sylvester Akapalara was shot in the head and neck in a Peckham stairwell.
He was the 19th and final teenager to die violently in London in 2010.
Kazeem Kolawoli, 18, of Black Prince Road, Lambeth, and Anthony McCalla, 19, of Oakdale Road, Streatham, have been charged with attempted murder over the Stockwell attack.
Thusha is said to be in a serious but stable condition following the shooting.
Related Internet Links
The BBC is not responsible for the content of external sites.