Prince William's waxwork given pre-wedding makeover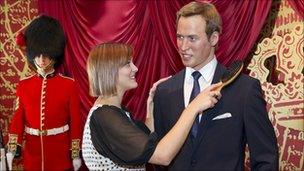 Prince William's waxwork has been given a royal makeover ahead of his wedding to Kate Middleton.
The figure, which is displayed at Madame Tussauds, has had its hair trimmed, been re-dressed in a blue suit and had its shoes polished.
It has also been re-positioned to take centre stage in the 'Royal Zone' of the central London tourist attraction.
Ms Middleton's figure is expected to stand alongside her new husband shortly after their wedding on 29 April.
Liz Edwards, from Madame Tussauds, said: "The Royal family are firm favourites with our guests, Brits and international visitors alike.
"We've already seen a huge increase in people wanting to have their picture taken with His Royal Highness and that will only grow as excitement about the royal wedding reaches fever pitch."
Each waxwork takes four months and a team of 20 dedicated sculptors to make. More than 500 body measurements are referenced and real head hairs are inserted one by one.
The prince's figure is in a special area with the Queen, Duke of Edinburgh, Prince of Wales, Duchess of Cornwall and Prince Harry.
Related Internet Links
The BBC is not responsible for the content of external sites.