Boxing and wrestling set for Royal Albert Hall return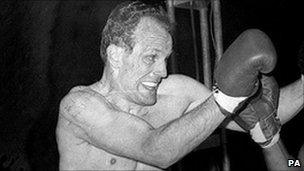 Boxing and wrestling may return to London's Royal Albert Hall after the Court of Appeal overturned a previous ruling.
In 2010, residents who feared noise and "anti-social elements" won a High Court order to end licensing approval for the sports at the hall.
The court found Westminster Council had not consulted Albert Court tenants.
But the Court of Appeal has now ruled this did not leave the residents with "no possible remedy" to the issue.
The three judges pointed out that if residents' fears of "very serious disturbances" were realised they could apply for a review of the licence.
There has not been boxing or wrestling at the Royal Albert Hall for a decade.
It once hosted boxing legends including Henry Cooper, Frank Bruno and Lennox Lewis.
The appeal was lodged by Conservative-run Westminster Council and the Corporation of the Hall of Arts and Sciences, which manages the Royal Albert Hall.
In May 2009, Westminster City Council, acting as licensing authority, decided to vary the licence adding boxing and wrestling to the list of permitted activities.
The council had set up a procedure for notifying those living in the "immediate vicinity" of the hall of any proposed changes.
But the previous hearing heard it "allowed its computer programme to dictate the notification process" even though a brief glance at the programme showed not all residents in the immediate vicinity would be notified.
That was the basis of the original challenge to the decision.
Related Internet Links
The BBC is not responsible for the content of external sites.