Leyton Orient in 2012 Olympic stadium High Court action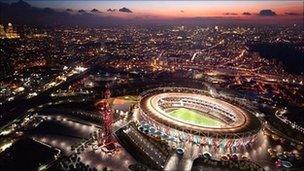 Leyton Orient Football Club has launched a legal bid over West Ham's move to the 2012 Olympic Stadium.
Bosses have applied for a judicial review, saying the Hammers' move to the nearby stadium would have a "devastating" effect on their fan-base.
It comes after Tottenham Hotspur also put in a judicial review bid, claiming a £40m loan to West Ham was improper.
In March, the Hammers defeated Spurs in the bid for the stadium after the Games.
Newham Council, which has declined to comment on Orient's move, arranged the loan to finance West Ham's bid.
Leyton Orient's application for a judicial review is also calling into question the legality of the loan.
But the club is also asking the High Court to examine the Olympic Park Legacy Company (OPLC) decision to award the stadium to West Ham, Leyton Orient said.
Matt Porter, Leyton Orient's chief executive, said: "I can confirm we are applying for a judicial review. Our application has been given in.
"We will be arguing the move would have a detrimental and devastating effect on Leyton Orient Football Club."
The OPLC has also declined to comment on the legal bid by Orient.
West Ham United could not be immediately contacted.
Related Internet Links
The BBC is not responsible for the content of external sites.