Pair 'overwhelmed' by response to gay kiss at Soho pub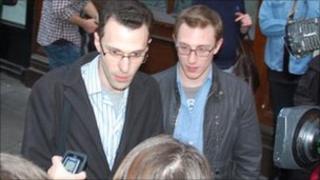 It started with a kiss - on a first date between two men in a pub in Soho, central London's gay heartland.
From that moment, neither James nor Jonathan could have imagined in their wildest dreams the events that would unfold in the next 48 hours.
"The date had been going really well until that point," said James Bull, 23, reflecting on Wednesday night.
But he and Jonathan Williams, 26, said they were thrown out of the John Snow pub on Broadwick Street "for being obscene".
The pair said they were kissing but it "wasn't anything indecent".
However, Dennis Griffiths, ex-president of the Federation of Licensed Victuallers Associations, has said: "If he doesn't like the house rules, don't use the pub."
Mr Williams wrote about the incident on Twitter, the story was picked up by the gay press, and a protest was swiftly organised on social networking site Facebook.
'Magnificent' response
By Friday afternoon, more than 700 people said they would attend a "kiss-in" at the bar in response to the alleged actions.
But early on Friday evening, their plans were scuppered. The pub locked its doors.
However, that didn't deter hundreds of protesters gathering outside the venue just before 1900 BST.
It was a cheerful atmosphere, lips nervously poised, and after a countdown the kissing commenced.
So on a weekend billed for its marathon, would Friday night be remembered as more of a snogathon?
Far from it. The kissing was brief and involved gay couples and heterosexual couples. It was met with cheers of approval from onlookers.
A rainbow flag was raised above the pub, as Jonathan and James appeared at the door. But this time they chose not to kiss.
Mr Williams said he didn't make a stand out of choice.
"It was circumstance. But I had a platform. I should take it," he said.
"I hope people will at least consider that everyone has feelings and you have a right to do, within reason, whatever you want in public, if it's affectionate and loving.
"The response is magnificent and overwhelming. You really can't do worse than this."
'Gentle crowd'
Mr Bull added: "I think the fact there are a significant number of straight people that are up in arms about it goes to show people don't find gay people offensive.
"A lot of my friends and strangers who are straight have been really supportive. We just weren't expecting it."
The pair's supporters socialised outside the closed pub for the next few hours.
Wendall Harris, 49, from east London, said: "Hundreds of people have shown they will not put up with this kind of treatment.
"It's time people stopped victimising us.
"We should be allowed to go out with our dates wherever we choose."
Protest organiser Paul Shetler was ecstatic about the turnout.
"It's about lip-balm, fresh-breath and kissing", he said.
By 2130 BST, most people had moved on elsewhere for the night.
A group of a half a dozen 20-somethings were quietly sat around on the doorstep to the pub.
"It's real shame people didn't stay for longer," said Gareth Rhys, 21, from Cambridge.
"But I'm glad the event was so gentle compared to some other recent protests".
The John Snow pub and Samuel Smith's brewery, which owns the central London venue, have not commented on the alleged incident.