M1 fire: Two southbound lanes reopen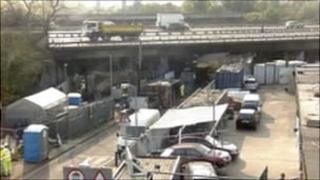 Two southbound lanes of the M1 in north London - which was closed following a scrapyard fire - have reopened.
Cones were removed from junction 4 to allow the lanes to reopen at about 1600 BST, Roads Minister Mike Penning said.
The motorway had been closed between junctions 1 and 4 since a fire started in a scrapyard on Friday. One lane southbound and northbound remains shut.
It is hoped a contra flow to get three narrow lanes running in each direction will be in place in time for Easter.
Steel pillars have been put up beneath a bridge which was badly damaged when the fire caused concrete to explode.
'A miracle'
The Highways Agency had initially planned to reopen a part of the southbound route on Monday morning, but work to reinforce the bridge delayed it.
Engineers said it was a "miracle" the bridge had not collapsed because of the extent of the fire damage.
Mr Penning said: "Engineers estimate that it was around 1,000 degrees, which is not a normal car fire and not the sort of heat you would get from, for instance, a scrapyard like this.
"What the investigation's going to find out is why we had that sort of fuel that generated that sort of heat that damaged a pre-stressed concrete bridge like this."
Motorists have been advised to check the Highways Agency website for the latest traffic information.
On Monday the Transport Secretary Philip Hammond ordered an audit of roads and railways that could be at risk of industrial accidents.
He said it was crucial lessons were learned from the "hugely disruptive event".
'Worked tirelessly'
Mr Hammond said: "I have asked the chief executives of the Highways Agency and Network Rail in the first instance to provide me with a report on potential sources of risk to the strategic transport networks from activities below roads and railways, or on adjacent sites.
"As well as identifying sources and categories of risk, the report will detail the options currently available for managing those risks, identify any gaps and make recommendations about how these should be filled.
"I have asked for the initial report to be produced within the next six weeks as it is vital that we quickly identify any action that needs to be taken to protect our critical transport infrastructure."
Mr Hammond added that Highways Agency staff had "worked tirelessly around the clock to reopen the motorway".
He said the next step would be to set up the contra flow to get three narrow lanes running in each direction, subject to a speed limit.
It is hoped this will be in place in time for the Easter getaway later this week, Mr Hammond said.
A spokeswoman for the Highways Agency said she could not say when the motorway would be completely reopened.
It will only be reopened when it is safe to do so, the spokeswoman said.