Negus McClean: Eighth arrest over Edmonton attack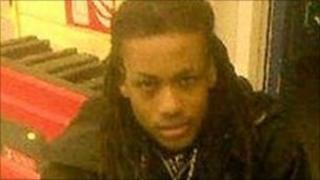 An eighth person has been arrested in connection with the murder of a 15-year-old boy in north London.
Negus McClean, from Edmonton, suffered stab wounds to the chest and thigh in Westminster Road, Edmonton, on 10 April.
The Metropolitan Police said a 16-year-old boy had been arrested and was in custody in east London.
Seven males, aged between 14 and 20 years old, have already been arrested and bailed during the investigation.
Negus was found with wounds to his chest and thigh at about 1930 BST on Sunday 10 April.
He was taken to the Royal London Hospital but died later that night. A post-mortem examination showed the cause of death as a stab wound to the heart.
Detectives were in the area where Negus was stabbed appealing for witnesses on Sunday 17 April.
It is believed that about 13 young men, thought to be on bicycles, chased Negus before the murder.
He was the fourth teenager to be stabbed to death in London this year.