M1 fire started deliberately, says London Fire Brigade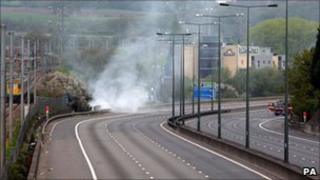 A fire that caused a section of the M1 to be closed for several days appears to have been started deliberately, the London Fire Brigade (LFB) has said.
Friday's blaze near a scrapyard under an elevated section of the motorway in Mill Hill, North London, saw lanes closed between junctions 1 and 4.
The fire caused widespread disruption over the weekend, with a seven-mile stretch of the M1 affected.
Engineers say the motorway will not be fully open to traffic until next week.
A London Fire Brigade spokeswoman said: "We believe that the fire was started deliberately and the incident has now been handed over to the Metropolitan Police for investigation."
Bridge 'miracle'
The Met had previously said officers were treating the fire as suspicious.
Officers from Colindale CID, which is investigating the incident, appealed for witnesses.
They said they were keen to speak to anyone who was driving along either carriageway of the M1 between 0400 BST and 0500 BST on Friday.
The problems caused by the blaze has led the government to carry out an audit of roads and railways at possible risk from industrial accidents.
Announcing the review, Transport Secretary Philip Hammond said: "It is crucial that we learn the lessons from this hugely disruptive event and ensure that we minimise the risk of something similar happening again."
The audit could affect many businesses operating close to motorways and stretches of railway.
Steel pillars have been put up beneath the bridge which was badly damaged by the fire, causing the concrete to explode and original steel beams to expand.
Engineers said it was a "miracle" the bridge had not collapsed because of the extent of the fire damage.
Currently two of the three lanes on both carriageways of the M1 are open.
Highways Agency hopes a contra flow to get three narrow lanes running in each direction will be in place in time for Easter.