Fire-damaged stretch of M1 motorway to fully reopen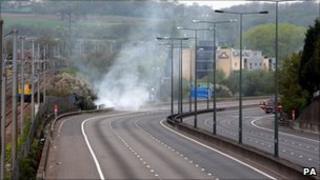 The fire-damaged section of the M1 will reopen fully from Thursday.
The Highways Agency announced that the normal three lanes would be open in each direction with a 50mph limit over the fire-affected viaduct.
But it warned that there could be further closures in the future so that permanent repair work can be done.
A fire, which is now being treated as arson, broke out under an elevated section of the road just north of London on Friday.
This led to full and partial closures of the section between junctions one and four.
Before the announcement it had been expected that a contraflow would have to operate on the section at the start of the Easter period.
'Minimise disruption'
The stretch of the motorway will be reduced to one lane in each direction from 2100 BST to 0600 BST to enable the full opening later on Thursday.
The Highways Agency said: "It should be noted that it is likely there will be a need for closures in the future to enable permanent repair work to be undertaken.
"These will, of course, be planned to minimise disruption as far as possible."
Transport Secretary Philip Hammond said: "I am pleased that work on the M1 has progressed faster than anticipated to allow the safe opening of three normal lanes in each direction by tomorrow.
"This means there will now be no need for a contraflow system.
"The Highways Agency has been working around the clock to do everything it can to reopen the M1 and this news will be welcomed by motorists planning to get away for the Easter weekend."