M1 is fully reopened after Mill Hill scrapyard fire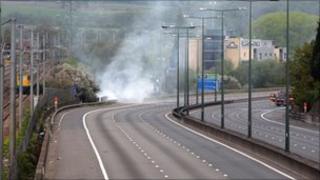 A seven-mile stretch of the M1 in north London which was affected by a fire in a scrapyard has been fully reopened, the Highways Agency said.
All three lanes in both directions between junctions 1 and 4 are open but a 50mph speed limit is in place on a bridge which was damaged by the fire.
Following the fire beneath the bridge in Mill Hill last Friday steel pillars have been erected to support it.
Some lanes could be closed later to undertake repairs, the agency said.
Further closures
All southbound lanes were reopened at 0510 BST and the northbound lanes were ready for traffic about an hour later.
A statement from the Highways Agency said work was continuing to repair "huge damage" caused by the fire.
It said: "A 50mph speed limit is in force over the viaduct for safety reasons.
"It should be noted that it is likely there will be a need for further closures in the future to enable permanent repair work to be undertaken."
The Metropolitan Police is investigating the fire, which London Fire Brigade believes was started deliberately.
Engineers said it was a "miracle" the bridge had not collapsed as a result of the extensive damage.