Fresh delays for Jubilee Line commuters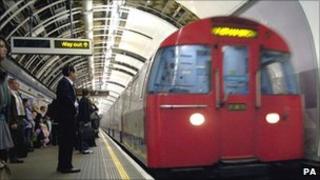 Commuters have been hit by disruption the Jubilee Line for the third day running with severe delays during evening rush hour.
A faulty train at Canary Wharf led to a 43-minute suspension, according to Transport for London (TfL).
It followed longer suspensions on Tuesday and Wednesday, which London Mayor Boris Johnson described as "unacceptable".
TfL said that the line currently has minor delays.
TfL has apologised to Jubilee line passengers for the disruption.
"At approximately 1747 a defective train at Canary Wharf resulted in a partial suspension of the line between London Bridge and Stratford."
Hottest days
"Two trains were stalled behind the defective train and a further train was stalled outside West Ham station.
"Our engineers worked urgently to ensure that the defective train was moved as quickly as possible and services resumed at 1830."
Wednesday morning's disruption was caused by a signal failure at Baker Street, which led to the line's suspension between Willesden Green and London Bridge.
Tuesday evening's suspension related to a power supply issue at Canning Town.
The entire line was shut shortly after 1900 BST, leaving trains stranded between Kilburn and Canary Wharf.
More than 2,000 people had to walk along the tracks after being stranded on one of the hottest days of the year.