Philip Sallon attack: Police issue suspect description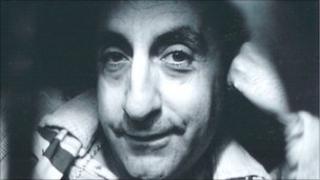 A socialite left unconscious in central London was thrown to the ground in a "martial arts move", police have said.
Philip Sallon's skull was fractured in Piccadilly Circus on 2 April and he is in a stable condition in hospital.
A friend, composer Benjamin Till, said it seemed to be a homophobic attack. Another friend, pop star Boy George, described it as a "brutal" assault.
Police said they were looking for a man aged about 20 who was approximately 6ft (1.8m) tall and had an athletic build.
The suspect had broad shoulders and short black hair, they added.
He was wearing a tight, royal blue short-sleeved T-shirt, as well as blue jeans and black trainers, they said.
Officers 'are determined'
Mr Sallon, 59, was beaten in the street in the early hours of the morning, during a night out in the West End.
He was described as "one of the most colourful characters in the London gay scene" by Mr Till, who handed out leaflets in Soho two weeks ago to appeal for information.
There was now a "very detailed description" of the suspect, said Det Ch Insp Mick Forteath of the Metropolitan Police.
"We are continuing to view CCTV taken from the area and are determined to arrest the person responsible.
"I would like to thank everyone who has come forward so far.
"However, I would still urge anyone who is reluctant to contact us to do so.
"Your information could provide us with the vital detail we need to identify the person responsible."