Stephen Lawrence murder: Charity trust helps students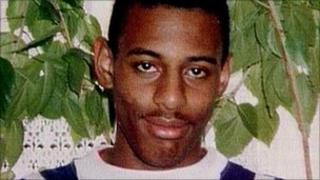 More than 100 architectural students have now been helped by a charity set up in memory of murdered teenager Stephen Lawrence, his mother has said.
He died on 22 April 1993 in a racist attack in Eltham, south-east London.
He had hoped to become an architect and the Stephen Lawrence Charitable Trust was established in nearby Lewisham to help others with similar aspirations.
"Hopefully he is looking down and saying, 'well done mum'," said Doreen Lawrence, 18 years after the attack.
"Stephen was denied his dream so we want to make sure other young people achieve theirs.
"Our aim for the next 18 years is to help as many young people as possible.
"The idea is to use the centre as a way to give them some sort of aim in life and use this as a way of achieving whatever it is that they want to achieve."
Eight students had qualified as architects, she added.
Mrs Lawrence said she still grieved for her son, who was killed at the age of 18 as he waited for a bus.
Nobody has ever been convicted of murdering him and "institutional racism" was found within the Metropolitan Police when an inquiry was held into the failed investigation.
"There are some days that you try and put it to the back of your mind but there is always something that reminds you," Mrs Lawrence said.
"You see a child that reminds you of when Stephen was young, or you think, 'what would he be doing now', or 'would he have a family'.
"Those are the sorts of things that you think about all the time."