Last royal wedding for policeman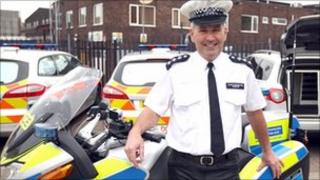 As Prince William and Kate Middleton exchange their vows in Westminster Abbey on Friday, Ch Insp Duncan Morley will be marking his own little piece of history.
It will be the last time he will have played his part in helping a royal wedding run smoothly - after a career spanning about 30 years.
He said: "As the film says, it is four weddings and a funeral. This will be my last.
"This will be my fourth royal wedding actually working on the day and I was on duty for the Queen Mother's funeral as well."
The first duty for the 19-year-old "very green, young constable" in 1981 was to manage the crowds at Hyde Park which gathered for a fireworks display preceding the July wedding of Prince Charles and Lady Diana Spencer.
"My role was to be involved in crowd management in Hyde Park and I was surrounded by thousands of very happy people all smiling and looking at the fireworks.
"I think, sadly, quite a lot of people didn't get to see the fireworks because there were so many people in Hyde Park. Even I didn't get to see them, so I was disappointed as well.
"People were really enthusiastic and I think they were just grateful to be a part of the event."
Since his first royal outing, the 49-year-old traffic control officer has been on duty at the weddings of Prince Andrew and Prince Edward, followed by the Queen Mother's funeral.
'She always waved'
Mr Morley, of Feltham, Surrey, whose last official day with the force was last week, said: "I decided to stay on to see this through."
"I don't think there is anyone left in the organisation that planned the Charles and Diana operation.
"My role at this event is to manage all the traffic, making sure everyone can get around London."
Despite attending these events, he has never actually met anyone from the Royal Family.
But he added: "I did have a connection with the Queen Mother when she came down the Mall trooping the colour - she always used to give me a wave as she went by.
"I was always in the same position - she used to look for me," he said.
The father-of-two said he was "really looking forward" to his last royal responsibility, before he quits to become a plumber.
"I love ceremonial events, I always enjoy trooping of the colour and state visits and I think this is one of those."