Fresh appeal over Geoffrey Bacon murder in Camberwell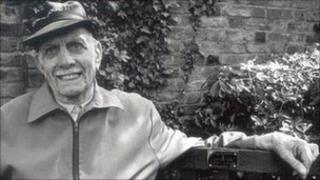 A renewed appeal for information into the murder of a 90-year-old war veteran in south-east London has been made on the first anniversary of the attack.
Geoffrey Bacon was knocked to the ground from behind as he entered his home on the Peabody Estate, near Camberwell Green, on 26 April 2010.
He was punched and suffered a fractured hip, and spent more than three months in hospital before dying on 5 August.
Police were back at the scene of the attack on Tuesday, seeking information.
A £20,000 reward has been offered for what was described as a "cowardly" crime by Det Insp Richard Beadle of the Metropolitan Police.
'Honest, decent man'
The suspect was described as being a light-skinned black man aged between 30 and 40.
No further details were released by police.
Shortly after the attack, they said they were looking for a local homeless man who could help them with their investigation, but nobody was ever charged with the crime.
Police said the suspect shut the front door behind Mr Bacon, who was only found lying on the floor after a neighbour heard his cries for help.
He took Mr Bacon's wallet, which held £40 and his Freedom Pass travel card.
"Geoffrey was an honest, decent man who had served his country bravely in the Second World War," said Det Insp Beadle.
"He had worked all his life and had earned the right to a peaceful and safe retirement.
"He did not deserve to have it taken from him in a cowardly attack by an assailant who undoubtedly made a conscious decision to use extreme force on a frail, elderly individual."