Parliament camp protester to take fight to Europe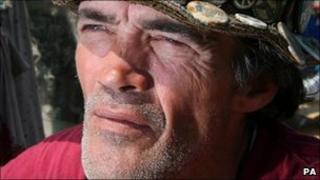 A peace campaigner has vowed to take her fight to maintain a protest camp on an area of grass in Parliament Square to the European Commission.
Barbara Tucker was speaking after losing her latest attempt to overturn a High Court ban preventing her from occupying Parliament Square Gardens.
She has camped at the spot with fellow campaigner Brian Haw for many years.
Last month the Appeal Court backed the mayor's bid to remove the camp but Ms Tucker has vowed to remain at the site.
'Without merit'
Australian-born Ms Tucker said: "You can appeal to the European Commission who can look into what the government are doing.
"I am going to do that now as a matter or urgency."
Ms Tucker, who has lived in the UK for more than 20 years, said she would continue to camp on the pavement bordering the gardens and hoped that revellers gathering in the area for the royal wedding on Friday would listen to her arguments against British involvement in Iraq and Afghanistan.
She had asked a High Court judge to discharge the order banning her from setting up a permanent camp in the gardens, saying that the order was "illegal and unworkable".
But Mrs Justice Nicola Davies disagreed and said the order, imposed by the High Court in March 2011, must stay.
The judge said Ms Tucker had already exhausted avenues of appeal and her latest application was "wholly without merit" because there had been no material change in circumstances.
'Politically motivated'
Ms Tucker, who has lived at addresses in London and Reading, said Boris Johnson's action was politically motivated and set a precedent which could be applied in "any public space".
Mr Johnson denies her claim.
At an earlier High Court hearing David Forsdick, for the mayor, said: "This is not a case about restricting the right of protest.
"It is about preventing a small group of individuals from unlawfully establishing a tented village in Parliament Square Gardens and taking possession of an important open space to the exclusion of others."
Mr Haw, from Redditch, Worcestershire, is being treated for lung cancer in Germany so was not in court on Wednesday but Ms Tucker said he hoped to return to the camp.