Five teenage boys bailed over M1 scrapyard fire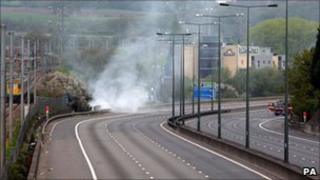 Five teenage boys have been bailed after being arrested in connection with a scrapyard fire in north London that led to the closure of the M1.
A blaze under an elevated section of the motorway in Mill Hil saw lanes closed between junctions 1 and 4 on 15 April.
The boys, aged between 14 and 17, were arrested on Wednesday morning.
They were bailed to return to a north London police station in mid-June pending further inquiries.
The teenagers were arrested in connection with the M1 fire and two other blazes in Mill Hill.
A seven-mile stretch of the M1 was affected by the fire and the motorway was not fully reopened for six days.
The two other blazes took place between 14 and 15 April and between 15 and 16 April in Moat Mount Open Space, Mill Hill.