King's College Hospital doctor charged in Dubai car row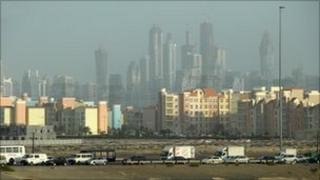 A doctor from London is being held by authorities in Dubai after allegedly making a rude gesture at a motorist.
Joseph Nunoo-Mensah, a consultant colorectal surgeon at King's College Hospital, had his passport confiscated after the confrontation.
He was charged with "public indecency" in the Middle Eastern city, last week.
Mr Nunoo-Mensah, whose family have since flown home, denies wrongdoing, saying he merely raised his hands.
The consultant was in the United Arab Emirates with his wife and three children, and was expected to return by 1 May.
'Serious penalties'
The Foreign Office said: "We were made aware of the case of the British national in Dubai on April 27.
"We are in touch with the family and are providing appropriate consular assistance to them and the British national involved."
A spokesman said the laws and customs in the UAE were "very different" to those in the UK.
"There may be serious penalties for doing something that might not be illegal in the UK and we cannot interfere in another country's legal procedures, just as they cannot interfere in ours," he explained.
Mr Nunoo-Mensah studied at the University of Nottingham before training in the US.
A King's College Hospital spokeswoman said: "Mr Nunoo-Mensah has kept us informed of events and we are in regular contact with him.
Operations cancelled
"We have a large colorectal team at King's, which includes three other colorectal surgeons.
"We did have to cancel a small number of clinic appointments for non-urgent, non-cancer patients this week. These have been re-scheduled."
There have been numerous high-profile cases of British people running into trouble with the law in Dubai, where Islam is the official religion and customs can be conservative.
In 2008 a UK couple were jailed for three months for having sex on a beach.
Other British women have been jailed for alleged adultery in the country.