7/7 attacks inquest: King's Cross fire lesson 'ignored'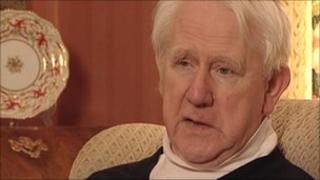 The author of the report into the King's Cross fire in 1987 has voiced his anger after the 7/7 inquest revealed his recommendations were not taken up.
Sir Desmond Fennell's inquiry blamed lack of radio contact during the fire, in which 31 people died.
The inquest into the 7 July bombings found radios did not work.
The Royal United Services Institute said no-one was to blame for the lack of implementation.
The think tank called for the creation of an emergency services minister who will have responsibility.
Fifty-two people died when Islamic extremists attacked London's transport network in 2005.
The inquest found the victims were unlawfully killed, although coroner Lady Justice Hallett said the emergency service response did not cost any lives.
She made nine recommendations for MI5, the emergency services and Transport for London, aimed at saving lives in future.
The hearings revealed the confusion of the emergency services and transport controllers as the full extent of the situation emerged.
There was a shortage of vital equipment, and mobile phones and radios did not work underground, the inquest was told.
Sir Desmond said it showed key recommendations to improve communications in tunnels and on platforms in his inquiry had still not been implemented.
Asked what his reaction was, the former High Court judge said: "Dismay, disappointment and despair."
He said of the need for radios that work underground: "I believe it is central to my recommendations.
"It is central to dealing with any catastrophe in London Underground.
"In the day when we live with the danger of home grown terrorists it is obviously highly relevant."
The inquest heard that, during the aftermath of the attacks, runners went from underground to street level with updates on number of injuries and equipment needed.
'Incomprehensible'
Gary Stevens, station manager at Russell Square Tube Station, made five such trips back and forth.
Asked of the need for functional radios, he told the inquest: "I'd give up a year's salary for it."
Sir Desmond continued: "I find it incomprehensible.
"I can't believe technological problems could not have been overcome in that period of time if the money was available.
"Cavalier would be too light a word because it must be a considered decision by somebody to reject a recommendation if it is so central."
He added that it was an insult to those who died in the fire.
James Mayes, 28, died in the King's Cross attack in 2005.
His father Bernard said: "I sometimes wonder what it takes in this country to get people off their backsides and do what needs to be done.
"It seems to be a very laissez-faire situation."
The emergency services' digital radios do now work underground, although they are not fully compatible with Transport for London equipment.