Royal wedding: Special edition Oyster card nets £2m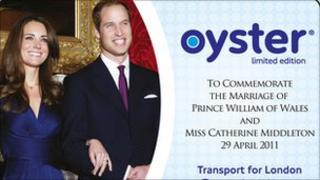 Transport for London (Tfl) has sold 200,000 special edition royal wedding Oyster Cards, bringing in £2m.
The electronic smartcard used on London's public transport system features a portrait of the couple and the wedding date of 29 April 2011.
The £10 cost of the cards is made up of £5 credit and £5 deposit.
The deposit is refundable but it is thought most people will keep them as souvenirs, meaning TfL will not have to give the money back.
However, the special edition cards have not sold out with 550,000 still available.
'Extremely popular'
Mayor of London, Boris Johnson, said the commemorative Oyster card was a "fabulous memento" of the wedding for both Londoners and visitors.
A TfL spokesperson said: "The limited edition Royal Wedding Oyster card has been extremely popular and almost 200,000 cards have been sold so far.
This commemorative card will continue to be available while stocks last and can be purchased from any London Underground and London Overground station, some National Rail ticket offices and TfL Travel Information Centres."
The cards were launched in 2003 and now have more than seven million users.