Samuel Ogunro 'executed' in Peckham before gun trial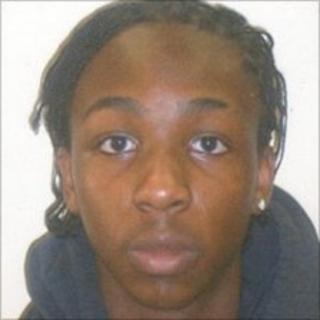 The "execution" of a teenager found in a burning car in south London ahead of his firearms trial was planned from inside a prison, the Old Bailey heard.
Samuel Ogunro, 17, was found shot in the head in the car in Jowett Street, Peckham, last June.
Prosecutors say he was shot dead because of his involvement in the forthcoming gun trial.
Adeoyin James-Odukoya, Ola Apena, both 21, Rocky Thompson, 25, and a 17-year-old, deny conspiracy to murder.
Mr Apena and Mr Thompson, both of no fixed address, also deny firearms offences and conspiracy to pervert the course of justice.
The teenage defendant from Peckham, also denies perverting the course of justice.
Jurors heard police arrested a number of people in Aylesbury, Bucks, in August 2009 after Mr Apena and others travelled in a Vauxhall Meriva from south London to buy a Tokarev self-loading pistol from Mr Thompson and others, who were in an Audi.
After their arrest, Mr Apena and Mr Thompson provided statements denying any involvement with the firearm.
'Execution arranged'
But Samuel told police he had been sitting in the Vauxhall when a package was brought from the Audi and unwrapped to reveal a gun, the court heard.
He was later offered money to plead guilty to firearms possession, so that the differences in accounts would not cause problems for Mr Apena and Mr Thompson at their trial, Mr Whittam said.
But Samuel had not taken up the offer by the eve of the trial, the court heard.
Mr Apena and Mr Thompson had illicit access to mobile phones while in custody at HMP Bullingdon, Oxfordshire, the jury heard.
Richard Whittam QC, prosecuting, said: "His execution had been arranged from inside HMP Bullingdon.
"They (Mr Apena and Mr Thompson), of course, could not carry out the murder as they were in custody.
'Lured outside'
"Through the use of those phones they could deploy others," he added.
Mr James-Odukoya and the teenage defendant were involved in "enabling the murder to take place", the court heard.
Samuel was "lured outside" and shot.
"He was then shot once in the back of the head. It was an effective execution," Mr Whittam said.
The victim was identified by his palm prints, the court heard.
The case continues.