Harrow school's cornrows haircut ban in 'critical role'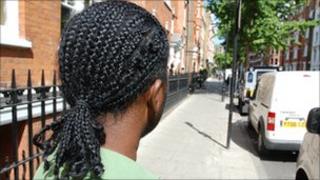 A school defending a ban on the cornrows hairstyle in court insists its hair and uniform policy plays a "critical role" tackling gang culture.
A former pupil has taken Gregory's Catholic Science College in Harrow, north London, to the High Court after it banned him for wearing braids.
His family claim the haircut is of importance to his cultural identity.
But headmaster Andrew Prindiville defended the insistence on "a traditional schoolboy haircut".
He said the school's policy "plays a critical role in ensuring that the culture associated with gangs of boys in particular - eg haircuts, bandanas, jewellery, hats, hoodies, etc - has no place in our school".
David Wolfe, representing the family, pointed out that Rastafarians at the school were allowed to wear dreadlocks.
He conceded that St Gregory's was not a racist school but argued it was only allowing exceptions to its strict hairstyle rule "on a very selective basis".
Mr Wolfe claimed the law required it to adopt a more flexible policy.
'Equal under God'
Judge Mr Justice Collins reserved judgment after the two-day hearing.
His ruling is expected in the next few weeks.
Following the hearing, the school released a press statement which said: "As a Catholic school St Gregory's is run on the belief that everyone at the school is equal and made in the image of God.
"Our school uniform policy plays a valuable role in contributing to the ethos of the school and setting an appropriate tone.
"We have always strived to ensure that our uniform policy is fair to the wide range of cultures which make up our school community."
The boy, G, who cannot be named for legal reasons, was aged 12 when he was barred from the school.
G, now aged 13, now attends another institution.