London 2012 the aim for Brunel student Ashley Bryant
By Keith Moore
BBC News London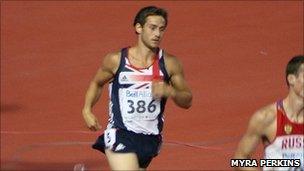 Final exams are normally a big moment in any student's life.
But a year away from his university graduation, Ashley Bryant says he would swap straight As for a chance to compete at the London 2012 Olympics.
The 20-year-old Brunel University student is Great Britain's No 2-ranked decathlete this year.
And though he has not yet reached Olympic qualification, with 14 months left to go until the Games, he is tantalisingly close.
"I am going to give it my best shot," Bryant said.
"At the end of the day, I have got nothing to lose. I came to university and I have come on so much in the last year.
"If I make it then brilliant. I did not think it was achievable a couple of years ago anyway so I am just in bonus territory."
Bryant's personal best score of 7586 in his first senior international meet in Italy this month was still short of the 7950 'B Standard' total he needs to achieve to qualify for the Games, but it has put him in contention.
He said he was confident that he could make the grade before July 2012.
Now in his second year of a sports science degree at the west London university, Bryant said his improvement over the last year could be credited to a move on to the university's campus.
"I live here, I do not have to travel all the time. I am able to do the little bits I could not do when I was living at home," he said.
With up to 35 hours of training a week during the winter and competitions all over Europe during the summer, Bryant acknowledged his academic work was suffering.
"I do not always have time to do all the extra reading and I probably do not start my work early enough.
"It is bad for my work, but at the end of the day 2012 is only going to come around once."
The pressure to live the traditional life of a student, with the late nights and parties is something that Bryant said he has not had much trouble avoiding.
"I am too tired to go clubbing," he said.
"I do not see the point of training so hard all year to waste it on a night out."
With no lottery funding, Bryant has to pay to travel to competitions which take him all over the world.
He said that he was lucky his parents, who live in Hampton in Surrey and both work in IT, are able to afford to help him continue to both train and study.
"Funding yourself is hard," he said.
"My parents are supporting me at the minute because they did not want me to get a job. If I get a job it just means the extra hours on top of my work and training which is already a lot."
Having suffered two fractures and three stress fractures of his spine from throwing the javelin before he was 15-years-old, Bryant is used overcoming obstacles.
"The Rio Olympics in 2016 will probably come at the best time of my career," Bryant said.
"I did not expect to have this opportunity, but now there is the pressure I might be able to do it, I do not want to mess up."
Related Internet Links
The BBC is not responsible for the content of external sites.