Legal aid reforms 'hit London's needy'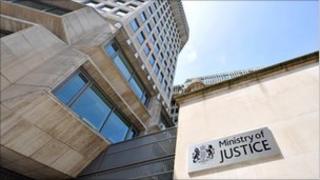 The House of Lords has discussed legal aid reforms that critics say would disproportionately affect London's most vulnerable people.
Government proposals mean anyone who owns a house worth more than £200,000 would not be eligible for legal aid.
The Ministry of Justice said reforms were needed to cut £350m from the £2bn annual cost.
But the Law Society said it was concerned most home owners in London would not be eligible for legal aid.
"Those who own a home worth over £200,000 will be ineligible for legal aid, even if they have no other disposable capital," said the Law Society, which represents solicitors in England and Wales, in a statement.
"With house prices going through the roof in London, this will mean that a huge proportion will be unable to access free legal representation."
'Most vulnerable'
The Law Society, which has started the Sound Off For Justice campaign opposing the plans, said the government should reconsider its proposals in order to protect the "most vulnerable and needy in our society".
It said the "most vulnerable" include: women who are trying to escape abusive marriages, fathers who want access to their children and people unlawfully fired from their jobs.
A Ministry of Justice spokesman said: "At more than £2bn a year, we pay far more per head than most other countries for legal aid.
"The current system encourages lengthy, acrimonious and sometimes unnecessary court proceedings at tax payers' expense.
"We need to make clear choices to ensure that legal aid will continue to be available in those cases that really require it."
Justice Secretary Kenneth Clarke's plans have faced criticism since he said last year that £350m a year needed to be cut from legal aid costs.
Labour MP for Hammersmith and shadow justice minister Andy Slaughter said the government should tender contracts to make prices more competitive.
"It is the most vulnerable people who are the most in need who are being targeted," he said.
"These are lazy and very stupid cuts."