Heathrow Express 48-hour strike begins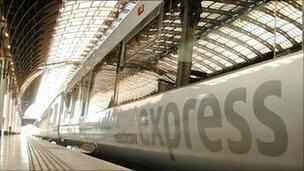 Heathrow Express rail link workers have begun a 48-hour strike over pay.
Members of the Rail Maritime and Transport (RMT) union walked out at 0340 BST. A second strike is scheduled for 24 hours on 24 June.
The company - which operates from Paddington in west London - said it planned to run half-hourly trains between 0800 and 2000 BST both days.
Heathrow Connect services, which are driven by Heathrow Express staff, will also not run on Friday and Saturday.
The industrial action could affect fans and officials on Saturday evening, after the Uefa Champions League final between Manchester United and Barcelona at Wembley.
It is thought that Uefa employees and a number of Olympic officials are booked on to Heathrow Express trains.
The RMT said Heathrow Express's offer of a 4.5% increase over one year was unacceptable and "loaded with strings".
RMT general secretary Bob Crow said the union's dispute was with Heathrow Express and not with the International Olympic Committee or Uefa.
He added that "all we are seeking to do is secure a fair pay deal for our members".
He said: "The fact that hundreds of dignitaries from the global sporting community are booked on Heathrow Express trains this weekend just shows that this is a prestigious, successful and profitable service built on the hard work of our members.
"All we want is for the company to recognise that in this pay round."
Heathrow Express said it would run a half-hourly service on Friday and Saturday from 0800 to 2000 BST between Paddington and Heathrow Airport Terminal 5 via Heathrow Central Terminals 1 and 3.
There will be no trains until Sunday on the Heathrow Connect service.
Managing director Richard Robinson said: "Our focus is to provide our customers with a regular service to and from the airport during this 48-hour period."
Related Internet Links
The BBC is not responsible for the content of external sites.