Heathrow cancels 79 flights due to storms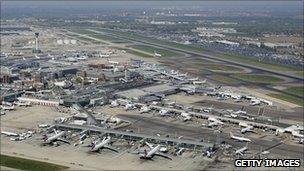 Thunderstorms and high winds have led to the cancellation of nearly 80 flights in and out of Heathrow.
Airport operator BAA said 50 departures and 29 arrivals had been cancelled on Thursday because of bad weather.
The flights were mainly scheduled between 1600 BST and 1900 BST on Thursday.
A BAA spokesman said the timetable had returned to normal by 2130 BST and expected Friday's schedule to be unaffected.
He said: "Due to localised thunderstorms and high winds, unfortunately we had to cancel some flights affecting a number of airlines."
He advised passengers to continue to check for updates.
But passenger Nicholas Banks, from Leatherhead, said the situation at Heathrow had been a "complete shambles".
He told the BBC News website: "My flight back from Amsterdam was three-and-a-half hours in total due to the delay.
"When we got back into the airport, the arrivals area was swamped with people who all had similar stories of an hour or two-hour delays."
He said that passengers had not been properly informed about what was going on and what had caused the delays.
Joan Hindle, from Newcastle, whose connecting flight to Boston was delayed, said she was spending the night sleeping on the airport floor.
"The plane was delayed and held in a holding area because of the bad weather.
"I've been here since though. I've been sent from queue to queue trying to rebook my Boston flight and everytime I get anywhere near the front, we get moved elsewhere.
"It's got to the point where I'm just too tired now. They offered the chance to book a hotel but didn't tell us until late. The queue for that is horrendous and I've just decided to try to find somewhere to sleep at the airport."
Chartered accountant John Arnold was due to fly to the Netherlands late on Thursday but said he gave up after hours of queuing at Heathrow and decided to try again on Friday.
"I realised it would have taken me about three or four hours to get to the head of the queue, so eventually I just gave up."
Related Internet Links
The BBC is not responsible for the content of external sites.