First Capital Connect passengers stuck for three hours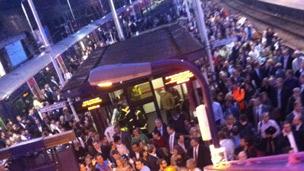 Hundreds of rush-hour passengers were stuck on a train for nearly three hours following electrical supply problems.
First Capital Connect said the service stopped just outside Kentish Town station in north London at 1830 BST after trouble with overhead lines.
The company said the St Pancras to St Albans train was towed back into Kentish Town at about 2115 BST.
National Rail warned limited services were running and severe delays would continue into the early hours.
A First Capital Connect (FCC) spokesman could not confirm how many passengers had been on board but said it was a "busy rush-hour train".
He said the ambulance services attended the trapped passengers at Kentish Town.
Passengers later claimed on Twitter that they had been left in a tunnel with little air, no water and no communication.
Martin Errington, 53, a chartered accountant, told BBC London: "We heard some sort of banging sound and the train just ground to a halt.
"The train driver spoke to us after 10 minutes but then we had nothing, no communication or updates, for something like 90 minutes.
"It was a packed train, people were standing and we had no air conditioning because of the power failure so it was getting very stuffy.
"After a while people just had enough and decided to walk down the tracks - which caused its own problems."
He said when they did get off at Kentish Town there were hundreds of passengers but no-one from First Capital Connect to provide any information.
"At one point a train pulled in without notice and as the hundreds people tried to make their way to that platform, it pulled away after only two or three minutes - and people were really angry about that," he said.
Financial consultant Nancy Mandizha, from St Albans, said: "We were on the train for around three hours. Everyone was getting very frustrated, especially as the train was overcrowded.
"There was very little information from the train staff and we had no idea about how long we would be there.
"There was no air conditioning for most of the time we were on the train and we didn't get any water for ages."
Richard Averill, also from St Albans, said passengers saw an explosion while they were on the platform at St Pancras before they set off.
He said: "The train was rebooted however, so we carried on towards St Albans after 10 minutes or so.
"A minute or so after we set off from St Pancras, another bang was heard and we realised the train had lost power again. We ground to a halt."
The FCC spokesman said: "We have launched a full investigation and will make every effort to ensure this does not happen again."
The problem was due to an overhead electrical supply issue at Farringdon.
Related Internet Links
The BBC is not responsible for the content of external sites.