London boy breaks Seven Summits record with Everest climb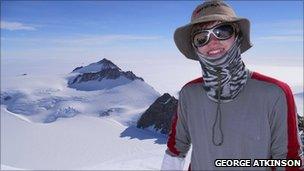 A boy of 16 has become the youngest person in the world to scale the highest mountains in every continent.
George Atkinson, from Surbiton, south-west London, began the Seven Summits challenge by scaling Kilimanjaro in 2005 and completed it by reaching the top of Mount Everest on Thursday.
He broke the record of US teenager Johnny Collinson, who completed the challenge at the age of 17 last year.
George's mother Penny said she felt "elated and emotional".
The British Mountaineering Council has confirmed George's record, who was aged 16 years and 362 days when he reached the summit of Mount Everest.
George, who turns 17 on Sunday, began the challenge of climbing the highest peaks in seven continents at the age of 11 by scaling Mount Kilimanjaro in Tanzania.
He then climbed Russia's Mount Elbrus in 2007 and reached the summits of Indonesia's Carstensz Pyramid and Argentina's Mount Aconcagua in 2008.
Mount McKinley in North America was next, followed by Mount Vinson in Antarctica which he climbed late last year.
In her son's blog, Penny Atkinson announced the completion of his challenge: "George has done it. He reached the summit at about 8.15am Nepali time.
"It sounds as if the weather is good...
"A big thank you to everyone who has helped George to achieve his dream."
She added: "Just get my boy down safe now!"
Related Internet Links
The BBC is not responsible for the content of external sites.