Bottle of Bordeaux wine sells for £135,000 at Christie's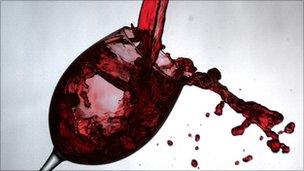 A single bottle of wine has sold for £135,000 in auction.
The six-litre bottle of 1961 Chateau Latour was sold in Hong Kong by London-based Christie's auction house.
The sum was more than three times the expected price. Wine experts said the bottle was of "perfect provenance".
It would take someone earning the average UK wage more than five years to save up for the bottle. After tax, Prime Minister David Cameron could not afford it with his annual salary.
In many parts of the UK it is possible to buy a house for less than the bottle.
Chateau Latour, made in Bordeaux, France, is considered one of the top five wines produced in the region.
The bottle was bought by a Chinese bidder.
Gary Boom, founder of London-based fine wine merchant Bordeaux Index, said: "The prices were encouraging but not surprising and shows how important the provenance is and how essential it is to buy from trusted and immaculate sources.
"Quite simply, when you have perfect provenance and a squeeze on supply then it's no surprise that prices reach these levels."
The fine wine market has been booming in London despite the economic slowdown.
It has been driven partly by an explosion of interest in fine wine from growing economies in the Far East - particularly in China, Hong Kong and Singapore.
Those regions have traditionally seen very low interest in wine, partly because grapes cannot grow in a tropical climate.
Mr Boom added: "What was most interesting is that in all vintages, including the younger ones, there was a big appetite for the large bottles such as double magnums and jeroboams.
"Traditionally Asian buyers don't go for big bottles so it's clear that there were many collectors on the phones bidding."
Last year the BBC tracked down what was thought to be the most expensive regular-sized bottle of wine for sale in London - a white Bordeaux made in Napoleonic times on offer at the princely sum of £75,000.
Related Internet Links
The BBC is not responsible for the content of external sites.