Park barbecue ban revoked by Islington Council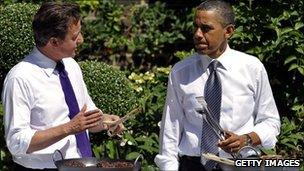 Barbecues are back on the menu in north London after a council revoked its ban on cooking over charcoal in parks.
Islington Council was one of numerous authorities to prohibit the grilling of food in its parks.
But councillors have had a rethink and now say they can "trust" residents to act responsibly.
Opponents of the ban said they were pleased at the news they can once again cook outdoors in locations such as Highbury Fields.
Julian Lefevre, 29, a management consultant from Islington, said: "Good news. Banning barbecues summed up the very worst of local authorities.
"I despair of such footling, meddling, high-minded interference by people who hold sway over our lives.
"It's the sort of thing that makes you want to shriek with fury when the council tax bill arrives."
He added: "Let's hope this outbreak of common sense is contagious among local politicians in London."
"No barbecue" signs have been removed from the borough's parks.
Councillor Paul Smith, of Islington Council, said: "We're on our residents' side and want them to enjoy our parks as much as possible. Scrapping the barbecue ban offers something new for summer.
"Most people living in Islington don't have a garden and this gives everyone the chance to enjoy their own barbecue in our public spaces.
"We believe we can trust our residents to use barbecues responsibly and clean up when they leave, without endless rules and regulations."
The neighbouring borough of Camden continues to enforce a strict ban on barbecues.
A statement on its website claimed the ban prevents "fire and injury risks".
Brian "the Grillmaster" George, president of the National Barbecue Association of the UK, said: "The ban was ridiculous in the first place.
"It is the case that disposable barbecues should not be used in public places.
"But to put a blanket ban on barbecues is ludicrous."
He added: "It is one more example of the nanny state."
The announcement comes days after Prime Minister David Cameron and US president Barack Obama were pictured serving up barbecued bangers to guests in the garden of 10 Downing Street.
Related Internet Links
The BBC is not responsible for the content of external sites.