Freephone for trafficking victims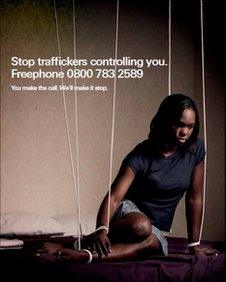 A free phone line for the victims of human trafficking has been launched.
The Metropolitan Police Service wants people who have been brought to the UK and forced to work for little or no wages to report the crimes.
The number is featured in a poster campaign produced for the force and the charity Stop The Traffik.
The force's SCD9 unit, which fights human exploitation, has secured 12 convictions in 12 months and a further 20 people are awaiting trial.
Det Ch Supt Richard Martin, head of SCD9, said: "I hope that this poster and the freephone number it shows will encourage and enable victims who are suffering at the hands of traffickers to get in touch with us.
"Since SCD9 was formed in April last year, we have been working to raise awareness and understanding of all aspects of human trafficking, including trafficking for sexual exploitation and trafficking in the context of domestic servitude and forced labour."
Related Internet Links
The BBC is not responsible for the content of external sites.