Man murdered in Stockwell motorbike shooting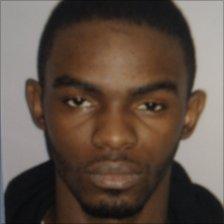 A man has been killed in an apparent ride-by machine gun attack near Stockwell Tube station in south London.
Sadiq Adebiyi, 25, was targeted by two men on a motorbike as he stood on the pavement in Clapham Road on at 2330 BST on Tuesday.
Police said he suffered gunshot wounds and died in hospital. Officers followed the bike into Binfield Road but were unable to stop it.
Two men, aged 19 and 21, were later arrested by murder squad detectives.
The shooting happened outside Richardson Court, near the junction with Stockwell Road.
Police said a dark-coloured motorcycle carrying two men wearing dark clothing and helmets crossed Clapham Road from the direction of the Stockwell Gardens Estate.
Following the shooting a marked police van pursued the bike which travelled into Binfield Road and on towards Battersea.
An area around the scene remains cordoned off as officers investigate the murder.
Det Ch Insp Neil Hutchison appealed for witnesses to contact police.
He said: "We believe this young man was on the pavement when two individuals on a motorcycle drove up close and fired a number of shots.
"He was hit and subsequently died.
"It may have been a machine gun used in the attack which placed all of London at great risk."
Two months ago a five-year-old girl and a 35-year-old man were critically injured during a shooting in a nearby shop.
The attack is being investigated by the Trident unit, which targets gun crime in the black community.
Trident stressed that fearful witnesses can be protected and provided with anonymity in a court case.
Det Ch Insp Hutchison added: "This could easily have involved other casualties.
"The best way we can make this area safer for the people who live there is with their assistance."
Related Internet Links
The BBC is not responsible for the content of external sites.