Londoners 'should change working patterns' during Games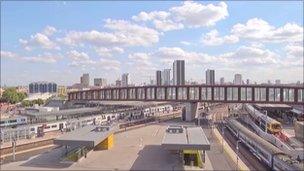 People working in London have been urged to rethink their travel plans during the 2012 Olympics to help avoid overcrowding on the transport network.
Transport Secretary Philip Hammond said he could not promise transport would not be disrupted during the Games and advised people to make contingencies.
He said people should consider working from home, working flexible hours or changing travel times.
Most major companies at Canary Wharf have already signed up to such schemes.
Mr Hammond's warning came as the Olympic Delivery Authority (ODA) announced that work on the Olympic station in Stratford, east London, had been completed.
More than £125m has been spent on upgrading the station which will handle half of all spectators travelling to the Olympic Park.
Capacity at Stratford has been trebled to accommodate 120,000 people during peak hours in 2012.
Mr Hammond said the station would "minimise the disruption for those who are not attending the Games and are going about their everyday business during July and August next year".
"Obviously, with hundreds and thousands of additional passengers in town, I can't promise that there will be no disruption to normal travel patterns."
He said they had been working with employers to introduce different working arrangements during the Games.
"Most of the major businesses at Canary Wharf have already signed up to flexible working patterns.
"There will be big crowds at some stations and that's going to be a challenge for us. But everything is manageable."
It is thought the House of Commons will break for its summer recess as early as 13 July to avoid the crowds.
When asked about this Mr Hammond said the date would be decided by the Parliamentary authorities.
He said: "The dedicated Olympic route network goes through Parliament Square and that makes access to Parliament difficult."
Related Internet Links
The BBC is not responsible for the content of external sites.