Toddler killed 'in revenge arson attack' in Camberwell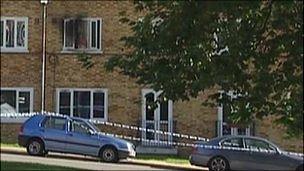 A 19-month-old girl was killed in a "horrifying" arson revenge attack that targeted three generations of the same family, a court has been told.
Siariah Letang was overcome by smoke during the fire in a maisonette in Camberwell, south London, last year.
Richard Kwakye, 28, of Twickenham, south-west London, began the fire in revenge for a firearms incident and over a custody battle, jurors heard.
He and his brother, Dimitri John-Lewis, 19, from Paddington, deny murder.
The toddler died in hospital from carbon monoxide poisoning while her mother, Ellisha Letang, 23, and grandmother, Brenda Ricketts, 45, suffered severe burns.
An 11-year-old girl and a four-year-old boy were also injured in the fire, the Old Bailey heard.
Jonathan Rees QC, prosecuting, said it was a "horrifying arson attack", adding: "On any view, this is a truly dreadful case."
Mr Rees said the fire was started when petrol was poured through the letter-box of the address in Arnould Avenue in the early hours of the morning and lit.
The jury heard the flames spread quickly and destroyed the staircase which prevented escape.
Miss Ricketts was screaming that children were going to die, Mr Rees said.
"Someone shouted at her to open the window and throw the children out, but in her panic she could not operate the catch that was holding the window shut," Mr Rees said.
"After a few minutes she went quiet, overcome by smoke.
"The fire brigade arrived within seven minutes but the damage to life and limb had already been done."
Both men also deny two counts of attempted murder as well as arson. Although the younger man is not said to have been at the scene, he is alleged to have supplied to petrol to Mr Kwakye.
The men's mother, Josephine Nicholas, 46, of Paddington, together with Mr Kwakye's partner, Sacha Williamson, 29, of Twickenham, deny allegations of perverting the course of justice by providing false information to police, as does Mr John-Lewis.
Related Internet Links
The BBC is not responsible for the content of external sites.