London 2012 Olympics: Men scoop 100m final tickets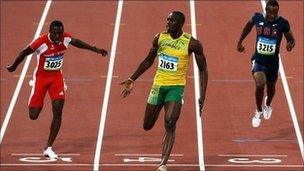 Two Londoners will be the envy of many Olympics fans after both got the only tickets they applied for - seats at the men's 100m final.
Tim Fuell, 36, from Hillingdon, will be watching the 2012 Games' showpiece event with his wife and twin daughters.
Anant Bhadreshwara, 23, a graphics designer from Harrow, north-west London, also got lucky.
More than a million people tried for tickets to the event, which Usain Bolt is favourite to win.
The pair, who do not know each other, live about six miles apart.
Many people who submitted requests in the first round of applications have received only a small number of tickets and some will receive none.
Those who successfully applied for multiple events will be told by 24 June which tickets they have been allocated.
Mr Fuell said he was looking forward to experiencing the atmosphere at the Olympic Stadium in Stratford, east London, as well as the chance to witness the likes of Bolt run.
"I was not really confident that I would get the tickets," he said.
"There is probably more chance of being struck twice by lightning in the same day."
An "overwhelmed" Mr Bhadreshwara also got tickets to the final, despite applying for that event only.
He said: "My enthusiasm for the 100m only really grew after I saw Usain Bolt in the media. It'll be great to see him live."
Mr Bhadreshwara got the cheapest tickets available - which still work out at just under £5 a second for the 100m dash.
The current world record for the 100m, set by reigning Olympic champion Bolt, is 9.58 seconds.
Prices for 100m final tickets ranged between £50 and £725.
Mr Fuell, who also managed to get the cheapest tickets, said he had no plans to sell them.
"I have had people suggest I should cash in on them but it is a once-in-a-lifetime opportunity," he said.
Related Internet Links
The BBC is not responsible for the content of external sites.