JCB digger raiders smash into Tesco in Upminster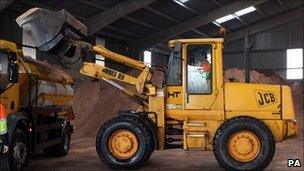 A pair of audacious crooks have used a JCB digger to smash their way into a Tesco store and steal its safe.
The duo, dressed in high-visibility jackets, stole the JCB from roadworks on the M25.
At about 0405 BST they then drove it into a Tesco Express store in Upminster, north-east London, stealing cash and the safe.
A Metropolitan Police spokesman said the raid caused "substantial damage".
The suspects loaded the store safe on to a white lorry before making their escape.
Both suspects are described as male, about 6ft tall and wore balaclavas.
The Met spokesman said: "Officers are appealing for any witnesses to the incident to come forward and assist them with the investigation.
"They are also appealing for anyone who may have seen people stealing the JCB digger from roadworks near the junction with the A127 to come forward."
Related Internet Links
The BBC is not responsible for the content of external sites.