Men still held over Stockwell ride-by shooting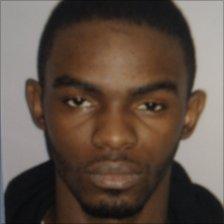 Two men are still being questioned after a man was killed in an apparent ride-by machine gun attack near Stockwell Tube station in south London.
Sadiq Adebiyi, 25, who lived nearby, was murdered by two men who approached on a motorbike as he stood on the pavement in Clapham Road.
A 19-year-old man was arrested after a police van followed the bike into the Patmore Estate in Battersea.
A second man, 21, was also arrested after the shooting on Tuesday.
Mr Adebiyi suffered gunshot wounds and died in hospital about an hour after the attack at 2330 BST.
The shooting happened outside Richardson Court, near the junction with Stockwell Road.
Police said a dark-coloured motorcycle carrying two men wearing dark clothing and helmets crossed Clapham Road from the direction of the Stockwell Gardens Estate.
Appealing for witnesses Det Ch Insp Neil Hutchison said: "This could easily have involved other casualties.
"The best way we can make this area safer for the people who live there is with their assistance."
Related Internet Links
The BBC is not responsible for the content of external sites.