Parliament Square crossing plan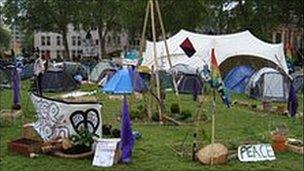 Plans to make Parliament Square more accessible have been unveiled.
Westminster Council wants to install a new pedestrian crossing to make it safer and easier to reach the Central London square.
The news comes 10 years after Brian Haw set up his anti-war protest camp opposite the Palace of Westminster.
Should the protesters be ordered off the pavement, at a hearing due this year, the council will take down the fences put up to protect the area.
If approved the crossing would run from the traffic island on St Margaret's Street, between Westminster Abbey and the Houses of Parliament, to the south-east corner of the square.
Mr Haw, from Redditch, Worcestershire, set up his camp in 2001 and is currently being treated for lung cancer in Germany.
A High Court ruling obtained by the mayor of London forced him to move his camp from the grass on to the pavement next to the World Heritage site.
Now the council, which is responsible for the pavement, is seeking a removal order on the grounds it is obstructing the public highway.
Should this be successful, the council said it would take down the fences that were put up to stop protesters camping on the grass.
Leader of Westminster Council, councillor Colin Barrow said: "For too long this camp has dominated the square which should be available for all.
"We of course, support the right to protest and will continue to do so, but the camping out for years on end has turned the area into an eyesore.
"I think they have made their point and now is the time to reclaim the square for all Londoners and their visitors once and for all."
He said installing the crossing would provide a safe way to access the square "rather than a sprint across several lanes of traffic".
Related Internet Links
The BBC is not responsible for the content of external sites.