TB vaccination for all London newborns proposed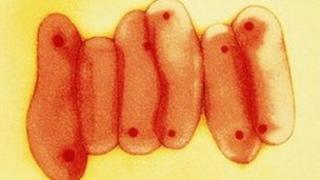 All newborn children in London could be vaccinated to reduce the spread of tuberculosis (TB), under proposals that are out for consultation.
Cases of TB have risen 50% in the capital, according to London Health Programmes (LHP), which has produced the draft plan.
LHP hopes its range of proposals, which also includes targeted testing, will help to cut the rate of the respiratory illness by 50% over the next 10 years.
The consultation runs until 13 July.
London has the poorest rate of cases of TB in Britain at 40 per 100,000 people, and it is also one of the worst in Western Europe.
The LHP draft plans say all newborn children should be vaccinated within six weeks of birth.
'Serious issue'
The BCG jab was discontinued for school children in 2005, after it was deemed unnecessary.
Other proposals include improved early identification of people with infectious TB, targeted testing and treatment of latent TB infection and an awareness and education programme.
A Department of Health spokesman said: "We recognise that tuberculosis is a serious issue in London, particularly in more deprived boroughs and among the migrant community.
"We welcome the consultation on the draft TB Plan for London.
Early detection
"However, consideration of future vaccination needs is just one of a range of areas the plan identifies for further control of TB."
Dr John Moore-Gillon, Vice President at the British Lung Foundation and TB specialist, said: "People can unknowingly have TB bacteria present in their bodies without being ill, and early detection through screening programmes is also important.
"Crucially, both the public and health care professionals need to be aware that TB is back, and growing fast."