Early warning breast and lung cancer campaign started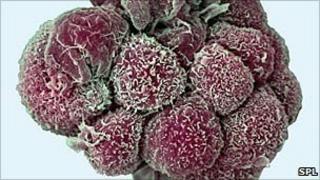 A campaign is being started in four London boroughs to alert people to signs of breast cancer and lung cancer.
The 'small c' campaign is being launched in Waltham Forest, Hackney, Tower Hamlets and Newham.
These four are behind the national average when it comes to awareness and early detection of cancer.
The initiative is a partnership between NHS East London and the City, Barts and the London NHS Trust, North East London Cancer Network and NHS Waltham Forest.
In Waltham Forest, only 12% of people recognise the symptoms of lung cancer; in Hackney, and Tower Hamlets, it is 8%, and Newham, just 6%.
The national average is 18%.
Professor Nick Lemoine, director of Barts Cancer Centre, which treats thousands of patients in the campaign's target area, said: "Today's advances in medicine mean that many forms of cancer have high survival rates, provided they are diagnosed at an early stage, so cancer is no longer a fatal disease.
"The aim of this campaign is to encourage people to be alert to the early warning signs of cancer and not to delay in going to a doctor."
A website will be launched for each cancer, containing the key information people need to know.
Lung and breast cancer are the two most commonly diagnosed forms of cancer, affecting almost 90,000 people a year in the UK.