London Underground strike talks break down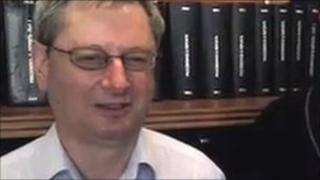 Talks aimed at averting a series of strikes by London Underground (LU) workers have broken down.
The Rail, Maritime and Transport union (RMT) met LU at conciliation service Acas to discuss the planned action following the sacking of a driver.
The talks came after an interim hearing judge suggested a tribunal was "likely" to find Arwyn Thomas was dismissed for his union activities.
The first strike is due to begin on Sunday evening.
LU said it wants to wait for the tribunal's decision before discussing Mr Thomas.
But the union said it was going ahead with the strike as LU would not guarantee Mr Thomas's reinstatement even if the decision was in the driver's favour.
Further planned strikes could affect people travelling to the Wimbledon tennis championships.
Both sides met at Acas for two hours on Wednesday, but the RMT said the talks had broken down and the strikes were now set to go ahead.
The tribunal has heard the claim of unfair dismissal from Northern Line driver Mr Thomas who was sacked for alleged abusive behaviour, and will deliver its full judgement later this month.
BBC London has obtained documents of an interim hearing which was held to decide whether Mr Thomas should be on full pay since his dismissal in December 2010.
In it the judge gives an indication that he should be reinstated on full pay.
Mayoral intervention
An RMT spokesman called for London Mayor Boris Johnson to intervene.
"Today, the RMT delegation met with LU at Acas to try to resolve the dispute about LU's victimisation of Arwyn Thomas in light of the findings at his interim tribunal hearing that he had been unfairly sacked on the grounds of his union activities.
"Unfortunately, management refused point blank to even discuss re-employing Arwyn.
"Furthermore, they stated that even if the Employment Tribunal found 100% in Arwyn's favour, they still would not guarantee to reinstate him.
"Therefore, we have no option but to go ahead with our strike action to defend our longstanding rep and activist."
Howard Collins, LU's chief operating officer, said: "The RMT leadership should call off its threatened strike action, called in support of a member of staff dismissed for abusive behaviour towards his colleagues.
"The tribunal process, to which the RMT agreed, has not concluded and has made no findings, interim or otherwise.
"We have made clear to the RMT that we will respond appropriately to the tribunal decision.
"What's more, the strike action was backed by just 29% of the RMT's Tube driver members."
LU said said it will try to run a "near normal" service if the strike goes ahead.