All London fire engines equipped with defibrillators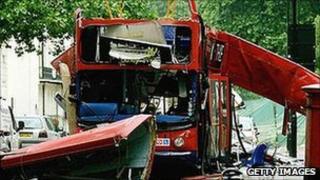 Every fire engine in London is now equipped with defibrillators after concerns were raised about the response to the 7/7 bombings.
Rescuers' attempts to treat the victims of the suicide attacks were hampered by shortages of first aid equipment.
There were also delays in paramedics being deployed, the inquest into the atrocities heard.
Four suicide bombers killed 52 people and injured more than 700 on London's public transport system on 7 July 2005.
The bombers targeted Tube trains at Aldgate, Edgware Road and Russell Square and a double decker bus in Tavistock Square.
London Fire Brigade has completed a four-year project to fit every fire engine with advanced life-saving kits, including defibrillators for cardiac arrest victims, manual suction devices to clear blocked airways, stiff-neck collars and improved wound dressings.
'Londoners safer'
Firefighters have been trained to use the equipment so they can treat people when they are the first emergency service to arrive at a scene or when patients are hard to reach.
London Fire Brigade had already started reviewing its first aid kits, procedures and training before the 7/7 attacks.
It began the programme in 2007, providing the new equipment and training to fire crews borough by borough, and finishing in Waltham Forest on Wednesday.
Firefighters in the capital have used defibrillators 32 times since the project began.
Susan Hall, who chairs London Fire Authority's community safety committee, said: "This is another example of the London Fire Brigade working to make Londoners safer.
"Following the 7/7 bombings, the emergency services were keen to learn how things could be done differently.
"We seized the initiative to improve our first aid capabilities by working with London Ambulance Service's experts, introducing equipment and first aid training that are the envy of fire brigades across the country."