Heathrow Express to be hit by second strike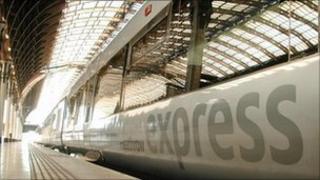 A second strike on the Heathrow Express has been announced by the Rail, Maritime and Transport (RMT) union.
The rail link workers will walk out for 24-hours from 0915 BST on 26 June, in a row over pay.
In May, members of the union went on strike for 48-hours after rejecting the company's offer of a 4.5% increase over one year.
The company, which operates out of Paddington Station, said it would try to avoid inconveniencing customers.
The workers will also ban overtime and will work to rule for 24 hours from 25 June and again from 27 June.
RMT General Secretary Bob Crow said: "The company knows it has tabled a completely unacceptable pay offer that is loaded with strings, yet despite a massive vote for action by our members and 48 hours of rock solid action, it has made no attempt to negotiate or improve its position.
"RMT is ready to negotiate seriously to put in place a fair pay package that will take us through the Olympics period and recognises the contribution our members make to delivering a highly successful and profitable service, and we need the company to show the same commitment."
A statement from the company said: "Heathrow Express still wishes to avoid any industrial action and continues to work to a resolution, as our number one priority is to avoid inconvenience to our customers."
The strike will end hours before a planned strike by RMT members on London Underground in a separate dispute over the sacking of a driver.