Three London Tory councils say libraries will not close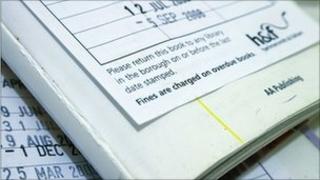 Three London councils have promised to keep their 21 libraries open by merging services but said 27 jobs, or 10% of staff, would be cut in the process.
Tory-run Hammersmith and Fulham, Kensington and Chelsea, and Westminster have already announced proposals to share several departments to save £35m.
Combining library operations would let users choose from 1m books, they said.
But Hammersmith's Labour MP, Andy Slaughter, said it was "utter nonsense" to suggest no libraries would close.
The strategy for libraries would see the equivalent of 27.5 full-time jobs cut from a workforce of 259, with annual savings of £1m.
But Conservative councillor Greg Smith said this was a better option than closing the libraries.
"Literacy is a fundamental cornerstone of a modern society and we need to get youngsters off their sofas and into our libraries," he said.
"This is why we are finding original ways to strengthen and protect as many of our libraries as we can."
'Still under threat'
However Mr Slaughter said Hammersmith and Fulham Council had "got this myth out there that they haven't closed any libraries".
"Well, they were basically trying to close five out of six, and it's only because of either public opposition or because it was so unfeasible that they haven't done that.
"Two which they particularly aim to get rid of are still under threat; they're just trying to put pressure on local schools to take them over."
Hammersmith and Fulham's cabinet will meet on Monday, while Kensington and Chelsea's senior councillors gather on Wednesday and Westminster has its own meeting on 27 June.
The three have been tasked with collectively saving £100m by 2014-15 and have put forward proposals to combine departments including education and social care, threatening hundreds of jobs.