Hanwell, Northfields, Northolt and Perivale library buildings 'stay open'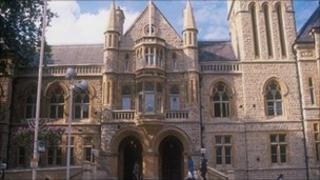 Campaigners who fought to retain four libraries in a west London borough have said they are "absolutely thrilled" that the facilities look set to remain.
The future of the libraries in Hanwell, Northfields, Northolt and Perivale was being considered by Ealing Council after it made £22m of cuts in 2011-12.
But deputy leader Ranjit Dheer has recommended all four are kept open, ahead of a vote on the issue on 5 July.
About 1,500 people signed a petition calling for the libraries to be saved.
Carolyn Brown, from Hanwell, who has been at the forefront of the campaign, said the proposal would particularly benefit children.
Mobile library closed
She said youngsters needed "to grow up with books to build an early passion for reading in order to maximise their life chances".
She said libraries were also often "a social lifeline" for local elderly people and people without access to the internet at home.
Councillor Dheer said people had "made it clear to us how much they value their local libraries" and nearly 500 residents had expressed an interest in volunteering to help run them.
But although Ealing will retain its library buildings, it has decided to close its mobile library service.
Mr Dheer said it was "extremely expensive" to transport stock to 44 different locations across the borough.
But he pledged to improve the borough's home library service, where books, CDs and DVDs are delivered to elderly or ill people once a month.
Ms Brown said she suspected the mobile service had received little support during a recent consultation because it was mostly web-based and so was not completed by many elderly people.