Boy, 9, handed in City of London watch robber's mobile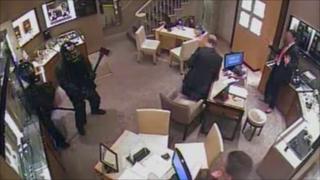 A boy of nine handed in a mobile phone dumped by two robbers in a playground as they fled after stealing watches worth £250,000, the Old Bailey heard.
Jed McDonald, 21, and Charlie Kavanagh, 20, both of Islington, dumped the phone as they fled through a Holloway school after the robbery in February.
Both men admitted conspiracy to rob the Watches of Switzerland store in the Royal Exchange in the City of London.
The phone, picked up by the boy, had numbers of Kavanagh's family members.
McDonald was jailed for four years and three months while Kavanagh was sentenced to five years.
'In a frenzy'
The judge, Recorder Richard Marks QC, said: "This will unquestionably have been a terrifying experience for the staff and public who were in the shop."
Four robbers on two scooters rode up to the store and the pillion passengers, both wearing helmets and carrying axes, smashed the cabinets "in a frenzy" and grabbed watches as customers and staff looked on, the court heard.
Alex Chalk, prosecuting, said the robbers got away with 28 watches, including Rolex, Jaeger, and Patek Philippe watches.
Kavanagh, the rider, and McDonald were chased by police through Islington, north London, before officers lost them.
The pair then dumped the scooter before fleeing through a playground at Yerbury Primary School in Holloway, where the phone was dropped.
Mr Chalk told the court: "A mobile phone was retrieved by a schoolboy and later given to police."
It contained the numbers of Kavanagh's mother and girlfriend. His DNA was found on a glove and a balaclava, while McDonald's was found on the discarded helmet.
Both men had previous criminal convictions.