London Transport Museum plans 1938 Tube train ride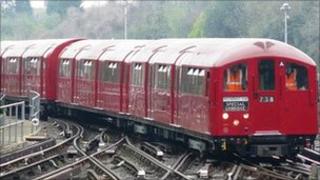 A 73-year-old train is to be driven along two Tube lines in west London on Sunday to give people the opportunity to travel in its Art Deco carriages.
The red vehicle was brought into service on the underground in 1938 and was used by passengers for 50 years.
It will make three separate journeys from High Street Kensington to Heathrow Airport on the District and Piccadilly Lines during the day.
The train is now owned by the London Transport Museum.
It will set out from from Northfields on the Piccadilly Line, switching to the District Line at Acton Town.
From Acton Town, it will head up to High Street Kensington.
Returning along the same route, it will travel from Acton Town to Heathrow Airport, then back to Northfields.
The journey, organised to coincide with Father's Day, will be repeated twice during Sunday afternoon.