Mount Muztaph Ata ski descent in memory of Sarah Lamping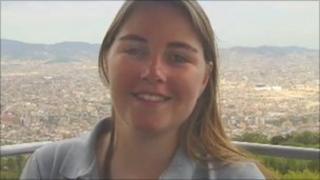 The brother of a London woman who died from leukaemia and five friends are to attempt the world's highest ski descent to raise money for others.
Dr Sarah Lamping, 32, a government scientist, died in 2010 after having the illness for nine months.
Now her brother Richard Lamping, 31, is to tackle Mount Muztaph Ata, on the border of China and Afghanistan.
Money raised will pay for a new machine at Hammersmith Hospital, allowing staff to monitor the disease better.
Dr Lamping's family have set a target of £120,000 needed to buy the piece of equipment.
Mount Muztaph is the highest mountain in the world that can be climbed with skis.
The team, who will leave for the challenge on 2 July, say it could take eight days to reach the summit and another four to descend.
They have been undergoing high altitude training and sleep each night under tents that replicate high altitude.
Mr Lamping said: "She [Sarah] fought for nine months courageously against this illness.
"For me it was just awful seeing what happened to her.
"It was Sarah's strength over nine months that has inspired me to do this challenge."
Jamie Walker, expedition leader, said: "We will be heading via camels, mules and feet to base camp.
"At base camp we'll be acclimatising, then attempting the highest ski descent in the world, approximately 25,000 feet.
'Fitting memorial'
"There are potentially lots of dangers, altitude being the highest risk - but also avalanches, crevasses, temperatures of -60C."
He added: "It's one enormous challenge and a fitting memorial."
Professor Jane Apperley, head of oncology at Hammersmith Hospital, said: "We are always enormously grateful for the efforts of patients, friends, relatives, and who support us.
"This piece of equipment is going to help us with diagnosis and monitoring of these diseases.
"This expedition is very exciting for all the staff here."