Reconstruction image of dead man released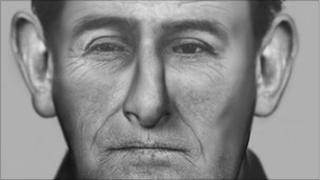 Detectives trying to identify the body of a man found in south London have released a facial reconstruction image of him.
The partially decomposed body of the man, who is thought to be about 50, was found on Mitcham Common by a member of public on 17 January.
A cranio-facial identification expert at Dundee University produced the 3D image of the man.
The Metroplitan Police is hoping the picture will jog someone's memory.
Detective Chief Inspector Mark Dunne said: "I would appeal to the public to take a good look at the image and contact the police if they think it resembles anyone who perhaps they haven't seen recently."
Forensic tests indicate the man probably died in September or October 2010. A post-mortem examination could not determine a cause of death.
He was white, between 5ft 7in (1.70m) and 5ft 9in (1.76m) tall, with short dark hair. He had poor dental health and a number of his teeth were missing.
Detectives believe he may have been a homeless person in the south London area.